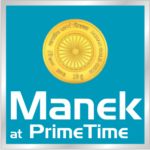 Manek at PrimeTime is an investment approach for people in the middle age (36-55 years). These are generally the highest earning years in our lives. But, these are also the years with biggest responsibilities, whether at work or at home. These are also the years when we fulfil many of our dreams, be it of seeing the world, be it of driving the dream car, or be it of establishing a business of one's own.
We cannot afford to make mistakes in this middle age. Too many people look upto us for support. With Manek at PrimeTime we have instituted an investment approach that helps you to build wealth in the most predictable way possible without compromising on the life responsibilities.
Manek at PrimeTime gives you so much control over your finances and investments that you would wish to have started following our methods much earlier.
It is impossible to explain this approach here. Please give us a call. Either we come to you or you come over to our office. You would like that you met us.